Students benefit from commitment to 100% MSC sustainable fish
12 May 2017
Our catered halls of residence will serve only Marine Stewardship Council certified sustainable fish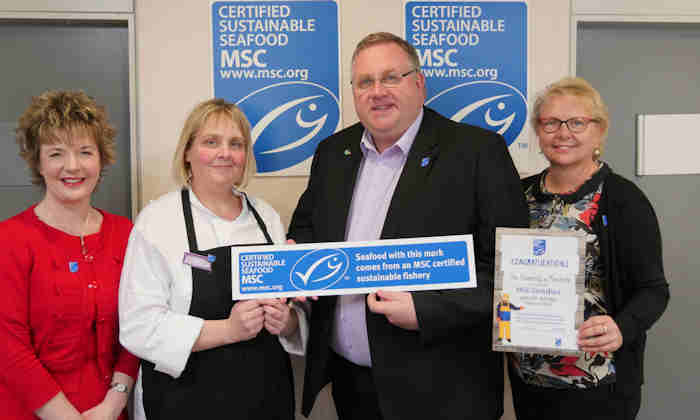 All of our nine catered halls, which are home to 2,200 students, will only serve 100% MSC fish. This means that we will not be using any fish that are on the endangered fish species list that was developed by the Marine Conservation Society, no farmed fish will be purchased and we only use fish that are sustainably managed from MSC certified fisheries. 
The certification process was driven by the University's strategic aim to be socially responsible. As a result the catering team worked with The Marine Stewardship Council (MSC) whose vision is to see the world's oceans teeming with life, today, tomorrow and for future generations. 
The nine University catered halls outlets, which serve 2,200 students breakfast and dinner each day, have achieved MSC certification through The University Catering Organisation for all the fish on their menus. 
Wendy Hardman, Campus Head Chef, said: "We are proud to have implemented this policy. Not only do we have traceability of how and where our fish have been responsibly caught, but the fish we are serving is tastier, less fattening and doesn't cost us anymore then what we are currently buying. We also have a broader range of fish to choose from which we vary from week to week, including hoki, hake and Pollock." 
Helen McGlashan (Director of Residential Services) said: "The University aims to have students leaving Manchester as socially responsible and environmentally aware graduates.  It is important to make them aware of global issues right from the beginning of their university life."  
Alison Shedlock (Head of Hospitality & Events) said "University Catering are committed to being responsible seafood purchasers and Food In Residence are leading the way in making our business as socially responsible as possible". 
Stefanie Siebels, MSC's UK Commercial Officer, said: "It's great to see The University of Manchester make this significant step to ensuring their students can eat certified sustainable seafood with a clear conscience. Getting MSC certified and raising awareness about the benefits of protecting the world's oceans by offering a choice of sustainably sourced fish on their menus is fantastic news for the university's students and staff."
Pictured: Helen McGlashan (Director of Residential Services), Wendy Hardman (Food In Residence Head Chef), Myles Kitchiner (Operations Manager, Food In Residence) and Alison Shedlock (Head of Hospitality & Events)