The Ede & Ravenscroft Prize 2016: two winners recognised
17 Mar 2017
Two students have been recognised for going the extra mile during their summer internship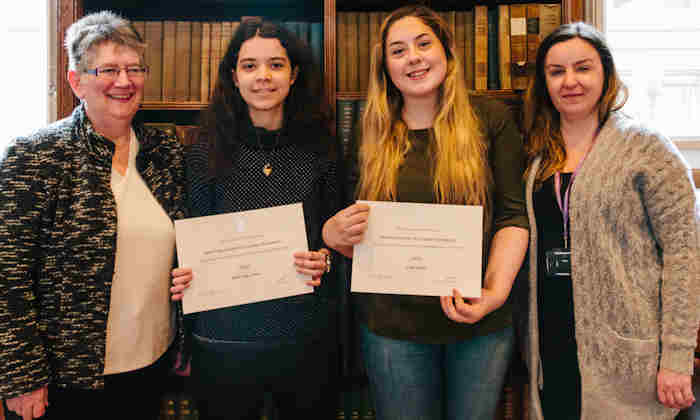 Two students participating in the 2016 Student Experience Internship (SEI) programme have been recognised for going the extra mile during their summer internship last year.  This month saw them being awarded their graduation package courtesy of a donation from graduation gown suppliers, Ede & Ravenscroft.  The two winners were:
Anna Grant (LLB Law), a Student Support & Advice Intern in the Atrium, was responsible for researching and implementing ways in which the University can encourage students to take control of their own finances, as well as informing staff of how to use these resources effectively. Her manager, Katie Urnevitch stated, "Anna is a deserving candidate for this prize due to the legacy and lasting impact she has had on the Student Support and Advice service, which will shape and develop our future work."
Madeleine Jones (BA Politics, Philosophy and Economics), a Crowdfunding and Marketing Intern with charity RE>BUILD Bury, spent her summer updating both marketing materials and a website, therefore moving the organisation closer to being able to develop a crowd funding campaign for a key project. Madeleine's manager, Liz Jackson, said "She worked really hard to achieve our stated aims in a very short space of time and in a world where young people often receive bad press, she can feel rightly proud of what she achieved." 
The judging panel of Dr Paul Redmond, Tammy Goldfeld and Ian Bradley identified the two winners amongst 22 nominated students from an original pool of 71 who took part in the SEI programme last summer.
For more information about the SEI programme contact the Careers Service via Anne Milligan, anne.milligan@manchester.ac.uk.
Pictured (L-R): Liz Jackson, Madeleine Jones, Anna Grant, Katie Urnevitch