Communications and Marketing in Times of Change
15 Dec 2016
An overview of the University's 2016 communications and marketing conference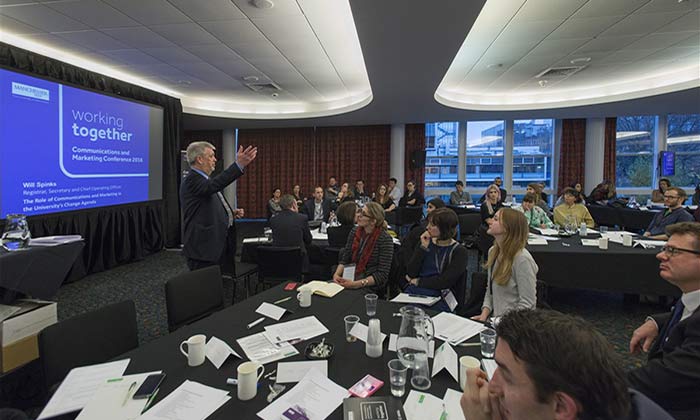 The second annual University of Manchester Communications and Marketing Conference – Communications and Marketing in Times of Change – took place on 22 November 2016 and was attended by around 130 University staff working in communications and marketing roles across a number of devolved teams.
After the success of the 2015 conference, which saw the launch of our collaborative three-year Communications and Marketing Plan, this year's event focused on building our reputation against the backdrop of a changing internal and external environment.
Conference programme
The programme included case studies of projects relating to actions from the Plan that were prioritised for 15/16, and which were led by University colleagues:
It also featured breakout sessions run by specialist external experts on a range of topics, which gave colleagues the opportunity to learn more about their line of work:
Key speakers
Andy Spinoza, Director of SKV Communications and member of our Board of Governors, was the keynote speaker; he talked about his career, from his beginnings as a journalist back in the 90's and founder of City Life magazine, to the work he does now as director of an award-winning communications agency.
Our Registrar, Secretary and Chief Operating Officer, Will Spinks, also addressed the conference to give us an insight into how communications and marketing colleagues can contribute and work together to deliver the University's 2020 vision.
Terry Hudghton, Head of University Marketing, and Alan Ferns, Director of Communications and Marketing (and Associate VP for External Relations and Reputation from January 2017), also talked to delegates about progress and achievements of the past year and what our communications and marketing priorities will be for 2016/17.
Feedback and resources
The conference has already received plenty of positive feedback and there is consensus that staff see this annual event as a great opportunity to strengthen relationships with communications and marketing colleagues from across the University.
Presentations and speaker notes are available on the conference website.